Brandon Di Michele aka the DJ "Echelon" hails from the Washington DC area, but was raised on the coastal waters of Ocean City, MD. With a father from Italy and a mother of European descent as well, he has taken many trips to the old country since childhood. And his time growing up with the ocean at his front door, and also living in Italy, has had a profound influence on him. Always having had a deep love for all types of music, Brandon's interest in dance music began with Paul Oakenfold's "New York" global underground compilation, and Juno Reactor's "Transmissions" album when he was 16. Echelon says "These were really amazing to me, I'd never heard anything like it before and not knowing anything of DJing or music production at the time, I was really impressed by the beautiful electronic soundscapes and hypnotic driving beats". He became an admirer of DJ's and producers like Paul Van Dyk, Sasha, John Digweed, and Paul Oakenfold. "I went to any event that I thought would be fun to go to, I wanted to study the music and understand everything about how it was made and how the scene was arranged around the world as best I could." and Brandon did this by going out to the craziest clubs in Washington DC. "BUZZ @ Nation, & the Edge, back in the day were regular spots for me and my friends."
His first paid gig came when he was 18 @ Club H20 in Ocean City, MD. Brandon was still honing his skills and soon after, Brandon moved to Italy for 2 years. Not realizing what he was getting himself into, his Italian cousins were very well known in the underground rave festival scene in Italy as the "Brothers Scarpone" and they were overjoyed to find that thier cousin from America was a DJ as well. "We went everywhere partying and DJing, Roma, Bologna, Napoli, it was a really great time. I remember this one party that we threw in my Father's hometown of Ovindoli in the province of Abruzzo that was way up in the mountains. We had to rent a huge generator and I'll never forget when we put up scaffolding to make our DJ booth and there were wild horses grazing right next to us, I think they liked the music though, it went non-stop for 3 days. There were people from everywhere, Amsterdam, Venezuela, all different parts of Italy, a good thousand or so. That was pretty much the largest thing I'd ever done at that time and it's still one of my favorite parties ever." Brandon went on to DJ at many other events while he lived in Italy as well, adding a 4 hour new years set at Discoteca Mille Pini to a completely packed crowd, & appearances at Club Ruvido to his resume. Eventually he began seeing how in Europe there was a big division between the Club aspect and the Rave aspect of the culture of dance music. "You'd always find people, my cousins included that were so true to the spirit of raving that they detested the club culture because of it's emphasis on making money and not on the music and being free to do whatever you want, and I definately understood where they were coming from." Then Brandon went to Milano, "Another cousin of mine is a professor at the University of Milano and he set me up with the right people, I played at Club Tocqueville on the famed Corso Como which was quiet at first, but after midnight it turned into acid fueled Versace model crazyness. The day after I ended up in a public park concert pavillion half awake and listening to Mozart being performed, good times indeed."
When Brandon came back to America is when he took the DJ name of Echelon. "My first DJ name was seriously "Neo" and that was before the Matrix came out, but I changed it once it did back to my regular name. When I came back to America I wanted a DJ name and Echelon is a government big brother satellite system originaly initiated in WWII to spy on the Nazi's that records every transmission of information in the entire world on every scale from TV to radio to E-mail and phone lines, look it up. I had never heard of anything that crazy that was not science fiction so I decided this would be my DJ name." Within a few months of returning to America mainly for school, Echelon was selected to DJ at the East Coast's biggest Anime convention, Otakon. In front of 20,000 people and held at the Baltimore Convention Center, Echelon threw down a 2 hour set that rocked the Otaku generation.

Brandon has DJed at all the Washington DC/Baltimore one offs and, in the same venues as globally recognized DJ's like Baltimore & DC club scene founders Scott Henry, Charles Feelgood, and DJ Micro. DJ Echelon has thrown down 6 hour sets in the Main room @ DC's legendary Club Home, and an Energy 101 CD release party in the Penthouse of Club Home. Brandon is friends with club afficionados like John Tab and DJed the opening night of the second floor @ Eyebar Club for legendary Promoter and co-founder of the Buzz @ Nation parties Lieven Degeyndt. DJ Echelon's mixes have also been featured on XM Satellite International Radio shows and have been showcased by System Recordings sponsored websites. In the near future, Brandon plans to focus on mixing without limitations & producing original progressive music. So stay tuned for upcoming productions..!!!
"I like to be open about music and life. I love the the entire experience, if I'm spinning or dancing it doesn't matter it's all about the rhythm. And rhythm is the biggest part of life, it's what puts everything in it's right time and place. If you chose what you play with a passion, it's a communication of a piece of you. Like you're showing your soul to the listener."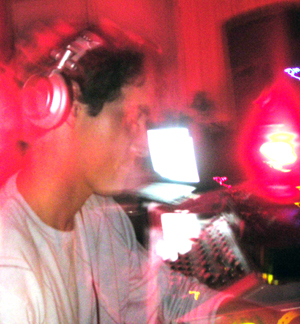 "DJ Echelon will paint you an electronic picture of music that will take you to new levels of consciousness"
- Otakon Convention Program